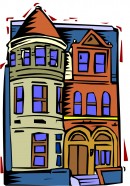 This Bed & Breakfast Cozy Mystery Theme also includes mystery series that take place in boarding houses and hotels:
Claudia Bishop: The Hemlock Falls Mystery Series features Sarah Quilliam, the owner of an inn and Meg Quilliam, the chef at the inn, and is set in New York.
Bill Crider & Willard Scott: The Stanley Waters Mystery Series features an ex-weatherman who now operates a B & B in Virginia.
Jill Churchill: The Grace & Favor Mystery Series is set in 1930s New York and features Robert and Lily Brewster, a brother and sister who live in the boarding mansion of that name.
E. J. Copperman: Haunted Guesthouse Mystery Series… New guesthouse owner on the Jersey shore has two "uninvited" (ghostly) guests.
Tina Czarnota: Country Inn, Bed & Breakfast Mystery Series… Trina runs the Tudor Grove Inn while sleuthing.
Mary Daheim: The Hillside Manor Bed & Breakfast Mystery Series features the owner of the Seattle B&B.
Cynthia Gallant-Simpson writes the Deadly Mystery Series, which features a British expatriate who inherits an inn in Provincetown, Cape Cod.
Jean Hager: The Iris House Bed & Breakfast Mystery Series is set in Missouri and features the owner of that B&B.
Heather Horrocks: The Who-Dun-Him-Inn Mystery Series stars the owner of a mystery-themed hotel.
Kate Kingsbury: The Pennyfoot Hotel Mystery Series takes place in the very early 1900s, is set in England, and features the hotel owner.
Karen MacInerney: The Gray Whale Inn Mystery Series takes place in Maine and features the inn's owner, an ex-Texan.
Charlotte MacLeod:  The Sarah Kelling & Max Bittersohn Mystery Series features Sarah, the owner of a boardinghouse in Boston.
Ruth Moose: The Beth McKenzie Mystery Series, starring the owner-operator of the Dixie Dew Bed and Breakfast.
Tamar Myers:  The Pennsylvania Dutch Mystery Series features the owner of a Mennonite Inn.
Tim Myers: The Lighthouse Inn Series features the owner of the inn in North Carolina.
***To access more Cozy Mysteries by Theme click on this link.***