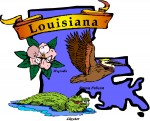 Here are some Louisiana facts:
The capital is Baton Rouge.
The largest city is New Orleans.
State motto is "Union, Justice, and Confidence."
State nickname is Sportsman's Paradise.
State flower is the Magnolia Blossom.
State bird is the Eastern Brown Pelican.
Mystery authors who are found on the Cozy Mystery Site who feature Louisiana locations/settings in their books:
S. H. Baker: Dassas Cormier Mystery Series…
Jacklyn Brady (aka Sherry Lewis): Piece of Cake Mystery Series…
Ellen Byron: Cajun Country Mystery Series…
Laura Childs: Scrapbooking Mystery Series…
Barbara Colley: Charlotte LaRue Mystery Series…
Jana DeLeon: Ghost-in-Law Mystery Series…
Jana DeLeon: Miss Fortune Mystery Series
Sophie Dunbar: Eclaire Mystery Series…
Charlaine Harris: Sookie Stackhouse Southern Vampire Mystery Series…
Rose Pressey: Chase Charley Mystery Series…
Julie Smith:  Skip Langdon Mystery Series…
Please feel free to comment if you see an author from the Cozy Mystery Site who belongs on this list, or if you have any corrections.
♦To access more Cozy Mysteries by Theme click on this link.♦