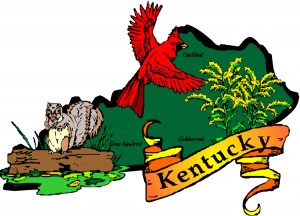 Here are some fun Kentucky facts:
The capital is Frankfort.
The largest city Louisville.
State motto is "United we stand, divided we fall."
State nickname is the Bluegrass State.
State flower is the Goldenrod.
State bird is the Cardinal.
Mystery authors who are found on the Cozy Mystery Site who feature Kentucky locations/settings in their books:
Tonya Kappes: Divorced Diva Mystery Series
Tonya Kappes: Kenni Lowry Mystery Series
Abigail Keam: Josiah Reynolds, Beekeeper Mystery Series
Taylor McCafferty (aka Barbara Taylor McCafferty): Haskell Blevins, P.I. Mystery Series
Barbara Taylor McCafferty & Beverly Taylor Herald: Tatum Twin Mystery Series
Tierney McClellan (aka Barbara Taylor McCafferty): Schuyler Ridgway Mystery Series
Rose Pressey: Trash to Treasure Crafting Mystery Series AND Haunted Tour Guide Mystery Series
Deborah Woodworth: Shaker Mystery Series
Please feel free to comment if you see an author from the Cozy Mystery Site who belongs on this list, or if you have any corrections.
♦To access more Cozy Mysteries by Theme click on this link.♦